Who is Dæv?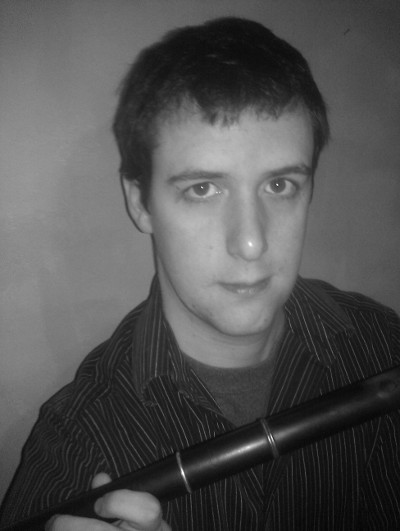 Daev (pronounced Dave) Clysdale is a musician from Ottawa, now living in Toronto. Daev plays a variety of instruments and musical styles, but specializes in Irish traditional music on his main four instruments: wooden flute, tin whistle, accordion and piano. He has now been playing, performing and composing music for over twenty years.
The son of a classical viola player, Daev was encouraged to explore music at a young age and quickly demonstrated a talent for playing classical music on piano and clarinet. Later, as a teenager, Daev first heard Irish traditional music through recordings of groups such as The Bothy Band, Planxty and The Chieftains, and this sparked an interest in traditional music that would shape the rest of his life. At age sixteen, he purchased his first tin whistle, and immediately began to teach himself to play tunes on it. Ever since then, Daev has been dedicated to the playing of Irish traditional music.
From 2000-2004, he attended the music program at Carleton University, where he developed his performance skills on piano, clarinet, and tin whistle. He studied both classical music and traditional music, while also becoming acquainted with other musical styles. He gained a solid education in music theory, musical composition, ethnomusicology, and more.
Following the completion of his degree, Daev continued to play the tin whistle, while also developing his skill on flute, piano and piano accordion. Now, after years of playing sessions, ceilis, weddings, and other events, he has developed a reputation as a skilled performer and teacher.
From 2013 to 2019, Daev was a regular touring member of the group Rant Maggie Rant.
In 2016, Daev composed an original suite for orchestra and tin whistle, and performed it with the North Bay Symphony Orchestra.
Since 2017, Daev has been the regular piano accompanist for the Gather Round Singers, a community choir associated with Jumblies Theatre.